SAINT Solutions Deliver Student-Driven Technology
Shorter College, a private, two-year liberal arts college in North Little Rock, Arkansas, needed a financial aid solution that was student-friendly and student driven. They also needed a seamless onboarding experience with a new third-party servicer.
Before partnering with Global, Shorter College's financial aid staff spent time manually processing financial aid and wanted to refocus staff time and resources. A student-driven process was a requirement for the College's financial aid decision-makers.
Shorter College began using SAINT Student and SAINT Director as solutions in November of 2020. With SAINT Student and SAINT Director, manual processing has been eliminated and Shorter College staff can spend more time advising students. Global handles back office administration for the College, and workflow has been streamlined with a student-driven portal that packages Title IV aid and collects documents electronically. Over two years, Shorter College has saved time for staff and made the financial aid process more streamlined for students as well.
"It's user-friendly for the student," said Audra Hinton, Shorter College's Director of Enrollment Management. "The onboarding process was immaculate. I thought that was a huge success. And it really has been a resource staffing-wise. If you don't have that depth in your back office, Global is really that bridge."
Global, the industry's leading third-party financial aid processor, delivered technology that was mobile responsive 24/7 and easy to use for students. Plus, Global's in-depth knowledge in financial aid included Verification and Return to Title IV.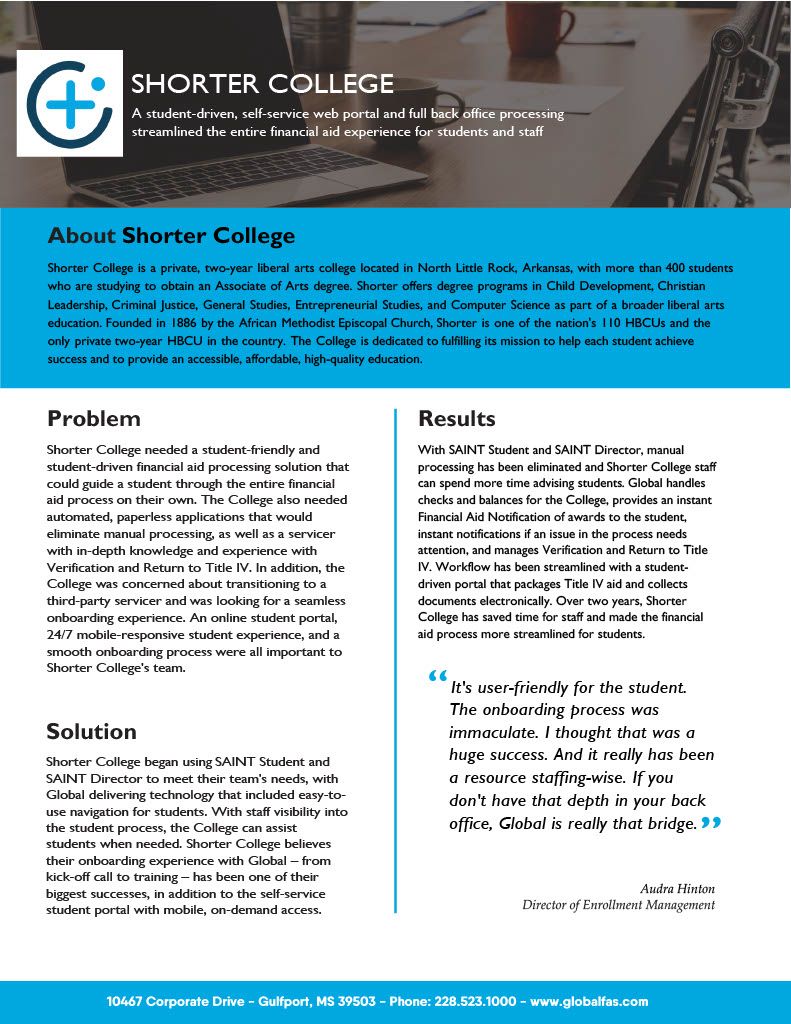 Since Shorter College began using SAINT Student and SAINT Director, the College has been able to:
· Spend more time assisting students
· Smoothly transition to a new servicer
· Exceed student expectations with a mobile, online solution
· Make staff time and resources available for advising students, instead of manually processing financial aid
More than 400 students are studying for an Associate of Arts degree at Shorter College. Founded in 1886 by the African Methodist Episcopal Church, Shorter is one of the nation's 110 HBCUs and the only private two-year HBCU in the country. The College is dedicated to fulfilling its mission to help each student achieve success and to provide an accessible, affordable, high-quality education.