Notes From the 2018 NASFAA Conference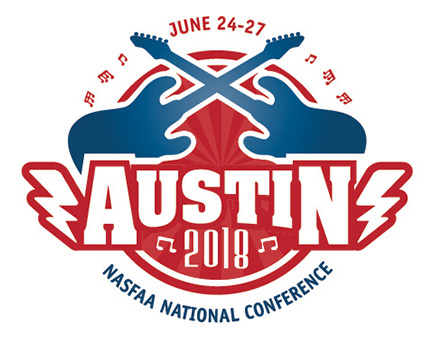 Reauthorization Ready
Reauthorization is 4 years overdue and there is still a long way to go before reauthorization happens.
Republicans and Democrats in both the House and Senate agree that there needs to be risk sharing. This will likely mean that institutions will have more "skin in the game" regarding Title IV aid. There are several options being proposed such as: 1) repaying a percentage of defaulted loans; 2) reduced funding for the lowest performing schools regarding completion rates that also have the lowest needy population (lowest 5% in both categories); and 3) changes to R2T4 with the institution returning more funds than what is currently required.
The Prosper Act may require more frequent disbursements of aid such as weekly or monthly. This act also proposes to provide a Pell Grant bonus to entice students to take larger course loads to graduate earlier, restore ATB, streamline repayment plans, eliminate resolving a Selective Service C Flag if the student is beyond the age for registration, and increase undergraduate loan limits. Some concerns with this act are: the elimination of FSEOG, subsidized DL, TEACH and Public Service Loan Forgiveness; capping graduate borrowing at $28,500; capping parent borrowing at $12,500; eliminating Grad FWS; and annual counseling requirement for Pell and loans.
Making ECAR and PPA Updates
A school that conducts a teach-out for a closing school can apply to have the closed school designated as an additional site/location.
When completing recertification you submit your policies for admission, SAP, tuition refund, and Return to Title IV. You need to be sure the submitted policies match what is posted on your website.
A school indicated that ED is also looking at the wording of the school's student grievance policy.
Proprietary Town Hall
The proposed rules federal registers for Borrower Defense to Repayment and Gainful Employment should be published very soon.
NASFAA's Public Policy and Open Forum
It appears that it is possible that ED and the Department of Labor will be combined.
We should all be concerned with the reduction in ED's workforce and with unfilled positions, particularly at FSA.
Federal Update
ED reviewed all DCLs to determine which ones are outdated that we no longer need to follow. The outdated ones are marked as historical records on IFAP in case we ever want to refer back to them.
ED does not intend to provide any further guidance on the use of FAFSA data as it relates to the Consolidated Appropriations Act.
Children of Fallen Heroes Scholarship Act - must be less than 24 at the time of parent's death, must be Pell eligible, EFC is treated as 0 for all aid. The official EFC will be calculated as normal but flag will be set in COD to allow awards applicable to 0 EFC. This will be effective for the 18-19 award year and further guidance is forthcoming.
ED will begin collecting the federal share of schools Perkins Loan funds after submission of the FISAP. This should begin near the end of the year. An electronic announcement on this process will be issued later this summer.
GE - warning disclosures are still required.
It's vital that all GE data (COD, NSLDS and FISAP) is accurate.
Perkins reporting to NSLDS needs to occur on a monthly basis.
MyStudent Aid mobile app coming this summer.
IRS Get Transcript Online is again available for new users. It has only been available to returning users. It is now open to new users.
DHS is working on the issue in the SAVE system for third step verification of eligible noncitizen status.
There are some cosmetic changes to FOTW. Additionally, students can go back to completed sections but cannot skip ahead to sections not yet started. They must complete the current section in order to advance to the next section.
Applicants that qualify for the simplified needs test or auto zero EFC are the only ones who will see the dislocated worker question.
The FAFSA will be available on a mobile app in July 2018. This will only be for new applications. The fall release will allow for renewal applications, corrections, completing state application information, and allowing completion of the special circumstances section.
I Don't Like Surprises: Effective Internal Audits and Compliance Programs
Academic Calendars should be reviewed to ensure scheduled breaks are listed correctly and are being accurately reflected in the R2T4 calculations.
Schools should monitor data security to ensure the security program is in place and working as designed.
Training staff members should occur on regulatory issues, institutional policies, and continual ongoing training on the basics of Title IV. If possible, other offices should be included such as the business office and registrar.
Be proactive and not reactive.
Challenge entrenched business practices. Just because "we've always done it that way" does not mean it's the best process or that it's effective.
It's important to obtain support for compliance from upper management. This will ensure they are aware of the ramifications of noncompliance and will support your efforts to make necessary changes.
Of Square Pegs and Round Holes: Distance Education, CBE and Other Innovations
SHEEO has a state authorization survey site that can help schools with understanding each state's requirements. Although ED has delayed the state authorization requirements related to schools with distance education, those requirements were related to Title IV institutional eligibility. The delay does not eliminate any requirement a state may have. Schools still need to comply with a state's requirements if any activities (recruitment, instruction, student online activities, etc.) occur. [http://sheeo.org/sheeo_surveys/]
Please be aware that SARA does not cover professional licensure requirements for each state or registration with the Secretary of State for that particular state(s).
As of fall 2016, almost 1/3 of all students took at least one course through distance education and 16.7% took all of their courses through distance education.
If there are any additional costs for taking the course through distance education, that must be disclosed to the student on or before registration for that course. Some schools were providing the information in the syllabus given to the student when they started the course. This is not permissible. They must be made aware prior to taking the class.
Regular and substantive interaction must be initiated by the instructor and be regular and somewhat frequent. Substantive interaction -of an academic nature about topics in that particular course/competency.
Negotiated Rulemaking will likely seek a narrow fix to regular and substantive interaction. Congress may create a broader fix.
NASFAA Inside the Beltway
Institutional risk sharing is a recurring theme on proposals for Higher Ed.
Most likely there will be some type of institutional accountability in reauthorization. This has bipartisan support.